Bold, bright and beautifully melded hues combine to create, SUNSET SOLACE, De Lorenzo's new season Colour Collection. Styled by De Lorenzo Brand Ambassador Brad Ngata, and assisted by educator, Holly Breen, the Autumn Winter 2020 collection showcases sophistication and glamour with shimmers of Metallics beaming through each look, made possible with the variety in the Nova 360° colour range.
SIENNA
Stunningly sophisticated and subtly simplistic, Sienna presents a beautiful melted colour blend of muted golds and pinks, created with Novasemi Atomic Orange, Explosive Red, Mystic Blue and Crystal Clear. A striking shimmering effect accentuates movement and texture through the relaxed, soft waves to deliver a hint of whimsy and a sense of liberty, the tones replicating a setting sun.
Sienna spritzes Defence Extinguish onto damp hair, before blow-drying Elements Sea Swell into her hair for volume. She then combs Elements Amplify through each section of the hair before curling and leaving her hair to cool. To create texture, Sienna brushes out her hair, applying Elements Quicksand through the ends before finishing with a spritz of Elements Vapour Mist for natural hold.
SOPHIA
A twist on the modern mullet, Sophia's pixie-like features and natural warmth are further enhanced by hues of gold, orange and pinky reds; the colours blending together and flickering out to a sophisticated graduation. The fiery, solar shades were created with a combination of Supanova, Novoxyl, Copper Vibrant, Orange Concentrate and Yellow Concentrate. With her feathered texture, Sophia encapsulates the beauty of a golden sunset.
Sophia blow-dries Elements Clay into the hair for volume, smoothness and shine. She then applies Elements Sandstorm at the roots for volume, and Elements Grit to piece out the fringe. Sophia finishes the look with an application of Elements Granite Strong Hold Hair Lacquer.
MEAGAN
Flickers of gold, honey and creamy blondes combine to deliver an intricate yet rebellious look, eliciting a feeling of freedom for Meagan. A little bit punk, this textured cut is accentuated and highlighted by reflects and bursts of fiery pieces created with Supanova, Novoxyl, Orange Concentrate, Novacreme, Novaclear and Novasemi Crystal Clear and Cyber Yellow.
Meagan applies Essential Treatments Protein Complex prior to shampooing. For increased volume, she blow-dries Elements Motion into the hair, followed by applying Elements Sandstorm for texture and hold. Elements Quicksand is applied to piece out ends and create more volume, and Meagan finishes the style with Elements Granite Strong Hold Hair Lacquer.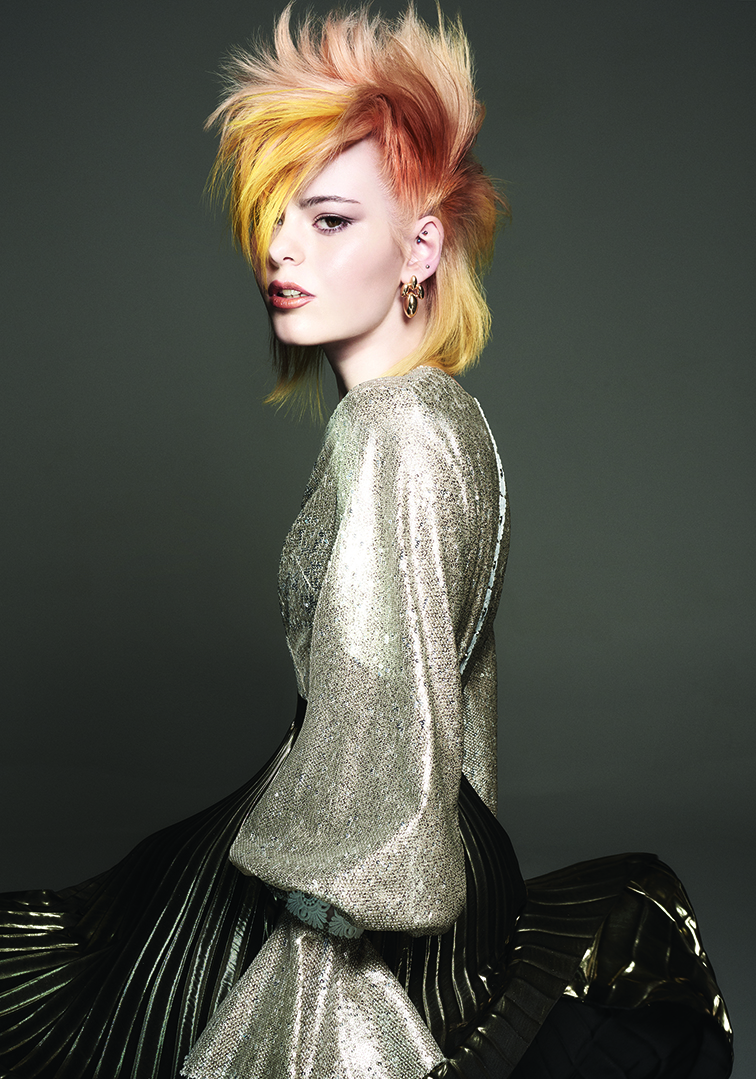 FASIKA
Confident and strong, Fasika exudes a strong femininity, emphasised by her statement style; a burst of textured gold and orange which beautifully complements her stunning complexion. A Natural Base Level 4, Fasika's colour has been expertly crafted using Supanova & Novoxyl, and a combination of Novasemi Cyber Yellow and Atomic Orange.
Fasika has applied Instant Satur8 to soften and moisturise, before applying Elements Granite Non-Aerosol Quicksand at the roots for texture and volume. Fasika finishes the style by spraying Elements Granite strong hold lacquer through the layers of hair to set hair direction.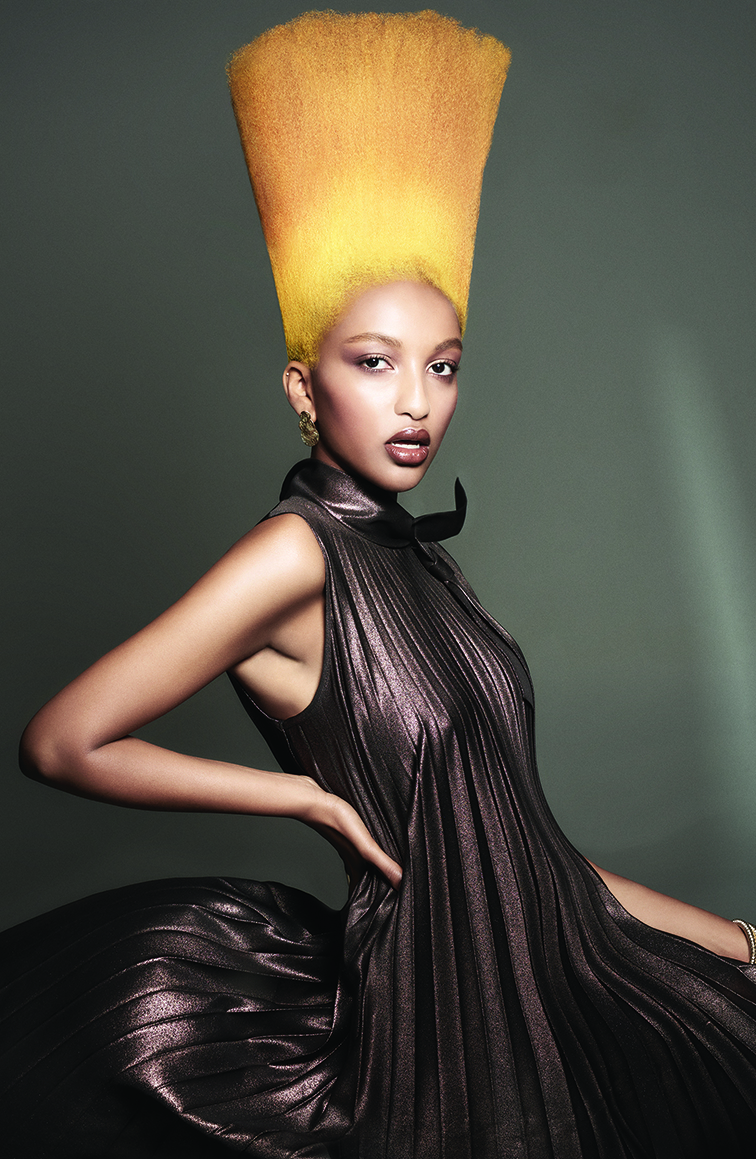 TEQUILA
Confident and alluring, Tequila's style showcases beautifully blended tones that combine to create a tousled waterfall of striking copper hues. Paired with smooth and curled styling for enviable movement, Tequila's signature shades are a combination of Novafusion Copper, Intense Copper and Coral Peach, for a seamless yet intricate melt.
Tequila sprays Defence Extinguish onto damp hair before blow-drying Elements Amplify into the hair for volume. Curling her hair with a medium tong, she then sprays Elements Vapour Mist for hold, before letting curls cool. Tequila then lightly sprays the hair with Elements Afterglow before brushing the curls out for the desired texture.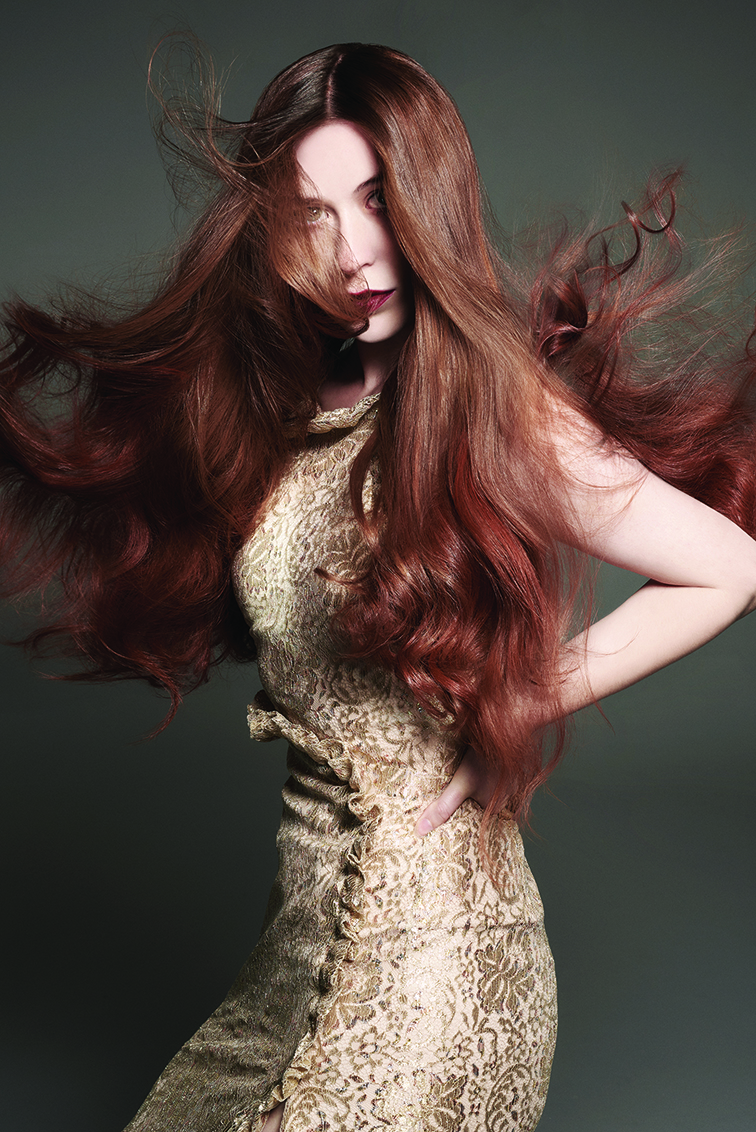 "We are committed to the ethical manufacture of natural-based products that contain no animal ingredients. Our products are focused on the health of the scalp and the hair. Our Research and Development team continues to explore technical innovation, new ingredients and the needs of the hairdressing industry. " – Anthony de Lorenzo, Joint Director